Microsoft offers built-in antivirus solutions for Windows operating systems, including Windows 10 and 11. While these tools provide good protection, it's essential to consider individual requirements when deciding on antivirus software.
Built-in Antivirus in Windows 10 and 11
Windows 10 and 11 come with Windows Security by default. The status of Antivirus can be viewed in the Windows Security settings. Over the years, Windows Security has significantly improved in detecting known viruses and threats, often performing on par with or better than some paid antivirus software.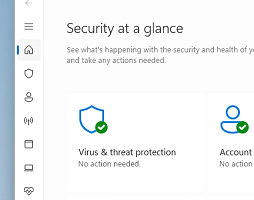 Windows Security Notifications
Windows Security notifications pop up to warn users about potential threats, like malware or unauthorized system changes, and often guide the user on how to resolve the issue. Paying attention to these alerts is crucial for maintaining a secure system.
Microsoft Security Essentials and its legacy
Before Windows Security became the standard for Windows 10, Microsoft provided Microsoft Security Essentials as a free antivirus solution for Windows XP, 7, and 8. Although the software's last official release was in 2016, Microsoft updates antivirus definitions until 2023 for existing installations. Microsoft Security Essentials is no longer available.
Positives of Microsoft Antivirus
It is free, user-friendly, and generally faster than specific paid alternatives.
It is sufficient for low-end computers with limited memory or slower processors, such as laptops priced under $400.
Limitations of the MS antivirus
While built-in antivirus effectively protects against viruses and malware, they have some limitations. For instance, it lacks of anti-spam protection and does not natively scan within Outlook PST files. However, they still scan email attachments and files upon opening them.
Choosing the Right Antivirus
While Microsoft antivirus solutions are effective, paid alternatives often provide additional features and robust protection tailored to specific needs. Consider a paid antivirus or security suite for comprehensive computer protection, including both PC and Mac platforms and mobile devices.
IT Support
If you're still unsure about which antivirus solution is right for your system, don't hesitate to reach out. With years of experience in the IT field, we're here to provide expert advice tailored to your unique needs. Contact IT Support today for a consultation.
2011 - 2023