HDMI cable V1.4 flat, from 0.5 to 10 metres
This is an HDMI V1.4b flat flexible cable of the Daichi brand, full copper conductors with gold-plated pins. HDMI V1.4b is a standard for resolutions up to 4K (3840x2160) with a refresh rate of up to 60Hz with 4:2:0 chroma subsampling. That is almost all 4K content, including Blu-Ray disks, Netflix etc. HDMI V1.4b supports ARC - Audio Return Channel, for example, getting sound from TV on a soundbar. HDMI V1.4b is also sufficient for most HD computer monitors with resolutions up to 2560×1440 with a refresh rate of up to 75Hz. You may need more expensive HDMI 2.1 cables only for the rare 8K content.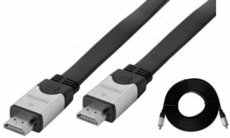 HDMI1.4
Length
price
resolution
0.5m
$7
4k 60Hz
1m
$8
2m
$9
3m
$10
5m
$15
7m
$20
4K 30Hz
10m
$28
HDMI 2.0b cable, from 0.5 to 10 metres
Unlike 1.4, HDMI 2.0b provides 18Gbps bandwidth suitable for 4K 60Hz 4:4:4 resolution (3840x2160), also called 4K UltraHD or the maximum resolution of 4K 120Hz with 4:2:0 chroma subsampling. HDMI 2.0b standard also provides wide-angle theatrical 21:9 aspect ratio, HDR - High Dynamic Range video. Like version 1.4, it supports ARC (Audio Return Channel), HDCP 2.2, and 3D Signals. The sound-wise HDMI 2.0b difference is notable only from 32 audio channels used in professional video.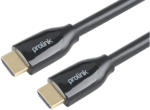 HDMI 2.0

| Length | price |
| --- | --- |
| 0.5m | $10 |
| 1m | $12 |
| 2m | $14 |
| 3m | $17 |
| 5m | $22 |
| 10m | $45 |
HDMI 2.1 cables 8K 60Hz from 0.3 to 3 metres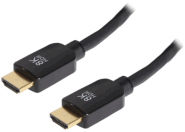 This Prolink-certified 2.1 HDMI cable supports uncompressed 8K Ultra HD 7680x4320 pixels video resolution at 60Hz refresh rate and 4K at 120Hz of 4:4:4 chroma subsampling. Such content needs a high-speed bandwidth of 48Gbps. This cable is backward compatible with all HDMI devices to work on old and new devices.
HDMI 2.1

| Length | price |
| --- | --- |
| 0.3m | $14 |
| 1m | $16 |
| 3m | $23 |
HDMI 2.0b cables, from 15 to 20 metres
This HDMI 2.0b cable provides resolutions up to 4K 60Hz of 4:4:4 chroma subsampling. Longer length requires thicker wires and extra quad shielding. The brand is AV-Link with gold-plated connectors. Twenty metres is the maximum length of HDMI cable you can get without additional amplification.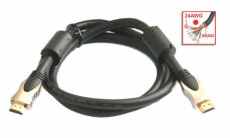 long HDMI cables
Length
price
resolution
15m
$75
4K 60Hz
20m
$90
How to buy above HDMI cables?
Manly Electronics supplies the cables with the audio-visual installation service only and does not sell them outright. The nearest shop to purchase them on the Sydney Northern Beaches would be Jaycar. The type of cables sold in shops is different.
HDMI cable issues
A low quality or a faulty HDMI cable can cause of issues with the picture and audio
No Signal.
The image quality is reduced, or does not support the highest resolutions that TV is capable of.
Intermittent picture or flickering.
Sparkles or "Snow", similar to static on old analog TV channels.
Horizontal or vertical lines.
Wrong Colours.
Intermittent sound or no sound through to amplifier - ARC feature not working.
The TV remote is not functioning with Foxtel - HDMI-CEC feature not working.
Cheap HDMI cables are usually thicker, which may cause damage to HDMI sockets over time.
Troubleshooting HDMI cable problems
Try connecting the HDMI cable to a different port.
Swap the HDMI cables from other ports.
Try using a shorter HDMI cable.
Try restarting both the TV and your source device.
Update the firmware on your TV (if available).