Sonos is designed to play music from internet services such as Spotify. This table helps select right speakers for your needs and connect Sonos to other sound sources such as TV, DVD, record players etc.
Conventional amplifiers usually have few analogue and digital inputs for different devices. Not so for Sonos. Sonos can have only one input, analogue or digital. To combine few audio sources, you will need to use other amplifier or preamplifier.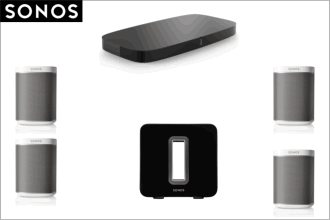 To connect Sonos to a conventional stereo analogue amplifier, you need at least Sonos CONNECT: + 2xPLAY speakers. That gives analogue stereo only for $1007. And if you want to connect Sonos to 5.1 digital surround sound, for example, Blu-ray, the minimum set of speakers is: PLAYBASE or PLAYBAR + SUB + 4x PLAY:1 with the total of $2910.
Each Sonos speaker has WiFi 2.4Ghz connectivity. No dual-band or so-called 5G WiFi. So you do not need expensive dual-band WiFi routers - they won't improve Sonos. Second Ethernet port is 'double adapter' allowing connects other devices to the same network cable along with Sonos speaker. Ethernet is not necessary for connecting few speakers because Sonos speakers have its own invisible mesh WiFi network. But for reliability (wire is always better) and to connect other AV devices to the internet such as TV and Foxtel box via Ethernet cable, you will need a third party network switch (around $20) the size of the modem.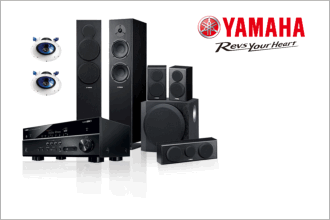 In comparison, Yamaha YHT-8940 - the latest Home Theater system includes 7 speakers plus subwoofer, multi-room wireless cost less than a $2000. It has 3 digital inputs + HDMI inputs. And yes, on the top of controlling TV DVDs, playing Bluetooth, etc via mobile phone, it plays Spotify on your mobile phone wirelessly.