Antenna booster needs power
Suppose you just moved to a new house, and the TV antenna is not working. Then you may need a power adapter for an antenna amplifier or, as it is also called, an antenna booster power supply.
An antenna booster power supply looks like a mobile phone power adapter. This power adapter should be connected to the main power and antenna outlet. Very often, tenants take the antenna power supply with them when they move out, mistakenly believing that the power supply is a device they purchased to boost the antenna. However, the power supply is actually a necessary part of the antenna system within the house. People who move into the house next may find themselves with all antenna outlets throughout the home not working.
It is easy to get the antenna power adapter confused with the antenna booster or antenna masthead amplifier. People buy and connect the antenna power adapter, hoping they will boost the antenna signal. The power adapter does not boost the antenna by itself. It will work only if an antenna masthead amplifier is installed on the antenna mast or inside the roof.
A TV antenna installer may try to persuade you to install a new antenna with mounting, outlets, cables 'and a kitchen sink' which may cost more than $1000 when all you need is an antenna power adapter for $25.
Fixing antenna power
You may try to install an antenna power adapter yourself. However, it is only one of the many possible problems with antennas. Also, different antenna amplifiers require different power supplies and there are few ways you can install them. The wrong power adapter installation may blow the antenna booster, or the antenna will not work correctly.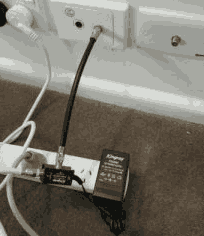 About the author
Dimitri, the owner, is a specialist with a degree in electronic engineering. He has provided cost-effective repairs to residential and commercial clients in the Northern Beaches and beyond since the late 90s.