Free Antivirus name
Before calling computer repairs you may wish to run a free antivirus tool that is built into Windows. Microsoft's "code name" for it is Windows Malicious Software Removal Tool. You do not have to download any program. The free Microsoft antivirus tool is already installed on every Windows PC. This is not a full-blown antivirus but it removes most widespread viruses if they are active on your computer. The free antivirus removal tool updates and runs itself automatically together with Microsoft Updates.
How to run antivirus tool
There is no desktop shortcut to run this tool. To run it press Windows logo key + R, type MRT and hit enter.
If you get an error message while running this antivirus, this could mean your computer is infected with the virus. Some viruses disable this and other antiviruses on infected computers.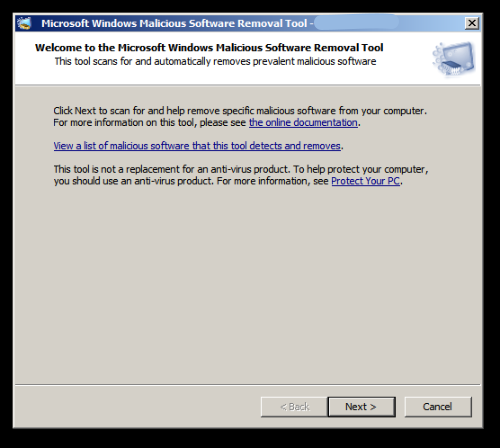 This free antivirus tool works on almost any Windows from XP to 11 and Server editions.
Tool Log file
MRT has log stored on your computer. In Windows 11, you can find the MRT scan logs in the file C:\Windows\debug\mrt.log
You can access it by copy-pasting that path into Start. The mrt.log file contains the details of the previous scans, completed and not, including information about any malware or potentially unwanted software detected and removed and any issues encountered during the scan. Note that accessing files in the C:\Windows directory may require administrative privileges.
Windows Defender
The Microsoft Removal Tool (MRT) is not the same as the antivirus functionality provided by Windows Security, which includes Windows Defender Antivirus.
Third party antivirus
Of course, since this antivirus is built into Windows, it might not work if Windows is corrupted. That is why it is worth having third party antivirus too.
27 August 12 Tags: antivirus, how to fix, Windows, Computers