When new routers improve WiFi speed, and when not?
WiFi routers must have the internationally allowed maximum WiFi power for various reasons, mostly for optimised performance and safety. Because of this, no router is substantially better when it comes to the WiFi range. Typically, routers and extenders provide WiFi within 30 metres in open space, less through the walls.
Although routers differ significantly by features and ability to handle high speed WiFi connection with many connected devices simultaneously.
Some WiFi routers are more stable than the others. They may use better antennas and other features such as beamforming - focusing power on the WiFi device in use. The WiFi quality also depends on your device's compatibility with the WiFi router. Expensive routers may not even connect to some devices such as older Sonos models if not configured accordingly.
And, of course, WiFi speed never exceeds the incoming internet speed you're paying for, regardless of how good your router is. For example, if you pay for a 25Mbs NBN package, the speed of WiFi will be no more than 25Mbs even though your $1000 WiFi mesh system has a 2000Mbs capacity.
Netgear RAX10 AX1800 router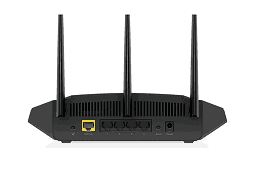 This Netgear does not have a modem, but a unique feature - a built-in Bitdefender antivirus. It protects computers and mobile phones on the network without antivirus. You can configure it as a WiFi router or access point, 2.4GHz and 5Ghz WiFi bands of 1900MHz total bandwidth, hence the name.
It is suitable for a small office with a hundred devices or a gamer. It has 4 Gigabit Ethernet ports and is compatible with HFC and other NBN modems. It costs around $200 plus a $100 per year antivirus subscription.
RAX10 is an updated, simplified version of the popular R7000P without USB input. There is also RAX20 for an extra $40 if you want to run a media server on a USB external drive.
Google WiFi router and mesh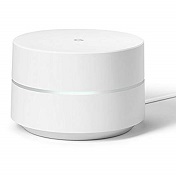 Google WiFi looks like an access point, usually sold as a set of 2 or 3 access points to form a WiFi mesh. Yet you can switch each point to WiFi router mode too. It also has little known but highly demanded standards - 802.11.k/v - or an automatic client roaming. It is seamless switching between WiFi access points while you walk around the house. However, the implementation of this feature varies from manufacturer to manufacture. 802.11.k/v standard ensures the best compatibility with all devices such as iPhones and Sonos.
Google WiFi has both 2.4GHz and 5Ghz bands 1200Mhz combined. But I found that the speed on Google WiFi is exceeding that of other AC2000 devices. Built-in 2x2 antennas have beamforming, achieving the best WiFi reception with less power. 2 Gigabit Ethernet ports ensure easy connectivity with other devices.
Google WiFi router controlled via the mobile app only. It is compatible with NBN modems if configured as a router. The price was very reasonable for the specifications $165 brand new. Officially discontinued, it is still automatically updated and available from some retailers for a $100 refurbished.
TP-LINK W9960 NBN modem and router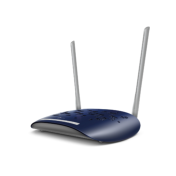 This router is the replacement for the popular TD-W9970. The price is even lower - $40. It has 100Mbs output ports only. That corresponds to a little outdated VDSL networking protocols used by NBN, specifically ITU-T G.993.2 profile 12b. Hence the maximum connection speed to NBN may not exceed 68Mbs. This speed is fine if you pay for NBN plans of the maximum of 25 or 50Mbs download seeds. But on the 100Mbs NBN plan, this modem may underperform. On the bright side, this router is well supported. The latest firmware update is Sep 2021.