A network switch is a device that allows computers to connect to each other on an internal wired network. Usually, a network switch is used to extend the number of Ethernet ports available from the router. PoE network switches also supply power to WiFi access points such as Ubiquiti. Manly Electronics can supply and install a network switch with your existing router or a new one.
TP-Link 8 port gigabit switch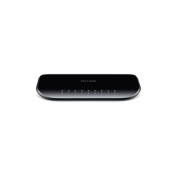 TL-SG1008D Plug and Play,16 Gbps switching capacity
$30
TP-Link 16 port gigabit switch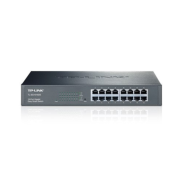 TL-SG1016DE has basic controls such as MTU, VLANs/VLAN tagging, QoS and IGMP snooping with Easy Smart Configuration Utility, 32 Gbps switching capacity
$120
TP-Link 24 port gigabit switch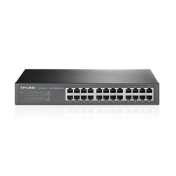 TL-SG1024D is the same as TL-SG1016DE except number of ports and 48 Gbps switching capacity
$130
NETGEAR 8 port PoE gigabit switch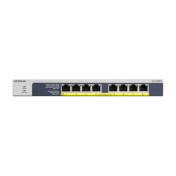 GS108PP-100AJS is an all 8 ports POE, 123 wats in total, gigabit ethernet switch. POE is power over the network for WiFi access points and CCTV cameras. $140
Ubiquiti UniFi 8-port PoE Switch

This is managed Ubiquiti Unifi Switch with 8 Gigabit Ethernet ports switch with 4 PoE ports only, 60W in total. 8 Gbps non-blocking throughput, a 16 Gbps switching capacity, and a 11.9 mpps forwarding rate. The UniFi switch can be managed using Ubiquiti's own UniFi Controller software, which gives network administrators the ability to manage multiple sites from a single interface. The UniFi Controller software provides network admins with full access to various Ubiquiti devices within the network, including the ability to change operating modes, monitor the status of each device, manage spanning tree configuration, and much more. $200
Router as a switch cause internet dropouts
Run out of ethernet ports on the router? Want to connect a few more computers in the other room? It is a common mistake that people install a second router instead of a switch. The second router may work when installed correctly, although not necessary in most situations of a home or small business network. A second router installed with default settings would cause problems such as intermittent internet dropouts and inability to connect to a network printer.
disclaimer
Network switches supplied with the service only. Manly Electronics provides IT support in Sydney, predominantly Northern Beaches. Prices include GST.