TV Antenna Services
Antenna repairs and upgrades
Digital antenna installation
Foxtel free to air channels fix
Running coaxial cables
TV antenna socket outlet repaired
Troubleshooting TV reception
Strata MATV systems repaired
Free calls to Sydney Northern Beaches
Is repair or a new TV antenna required?
The need for a new antenna depends on the issue and the location. Often, the problem is inside the house, so getting on the roof and installing a new antenna is only sometimes necessary.
Even old analog antennas may get digital TV channels without issue. Antenna repair price starts from $150.
Weak TV reception locations
Thanks to digital TV technology, good reception is now possible anywhere in Sydney. But some locations at Sydney Northern Beaches present a challenge. Areas such as Bayview, Palm Beach, Church Point and along Mccarrs Creek Rd, north of Mona Vale, may require the best digital antenna parts and precise antenna orientation for a stable TV picture.
Foxtel Free to Air
Foxtel is phasing out transmitting free to air channels via cable and satellite in 2023. Foxtel IQ4, IQ5 and Fox Now miss free to air channels or the error is displayed if the antenna is not working. Paid content is streamed via the internet now. In some locations, Foxtel still provides most free to air channels over satellite dishes. Regardless, having the antenna to watch all free to air with or without Foxtel delivers the best HD quality and channel variety. Manly Electronics can fix antennas integrating into existing Foxtel installation, hence minimising costs.
Foxtel boxes difference
box type
Paid channels
Free to Air
Record
IQ3
Cable
Cable
3 at once
IQ4
Cable or Internet
Cable or Antenna
IQ5
Internet
Antenna
2 at once
Foxtel Now
no
Foxtel Go app
No
In other words, you do not need cable starting from IQ4. If the IQ box is connected to WiFi, you can disconnect the coaxial cable and even move it to a different room - paid channels should still work. Nevertheless, the antenna is now necessary for free to air channels.
Streaming HD requires at least 7 Mbs of internet speed. Although NBN and wireless are much faster, a small percentage of Australians are still on slow internet, where the satellite is required for Foxtel.
Watching Foxtel without a box
The Foxtel Go app is compatible with the latest Smart TVs, Google TV, and other Android-based streaming devices. However, as of Sep 2023, it cannot be downloaded on Apple TV. To walk around that, users can install the app on an iPhone and use AirPlay to stream content to Apple TV. While a Foxtel box is necessary for recording and accessing specific sports channels, it is not required for using the Foxtel Go app. The app can be installed on up to five devices and concurrently viewed on two.
Switching Foxtel to the free to air antenna
Have you disconnected Foxtel or moved to the new house, but the freet to air antenna is not working? We can fix it. There is no need to run new antenna cables. We can utilise Foxtel cables to get antenna signals through the house. Foxtel cables are the same RG6 type as TV antennas. New homes usually have coaxial cables running everywhere. But not all cables are used as you'd have to pay for a Foxtel box in each room. The tricky part is to sort out which cable is which, repair or install a new TV antenna if required, and feed signal to the coax cables. It may take only an hour to fix, and you can watch free to air channels.
The NBN may come through the same coax cable as pay TV. In some houses and strata units, Foxtel and free to air TV antenna signals run through the same cable by design. But more often, NBN comes through the telephone line and is separate from coax cabling. We'll make sure the NBN or remaining pay TV services are uninterrupted.
Switching over to digital TV
Australian TV switched over to digital in 2013. Old antennas should receive digital just fine. Antenna fixes become necessary only when television channels are pixelated or missing.
To watch a digital free to air TV broadcast, you'll need one of the following:
A digital TV
A digital set-top box
A digital DVD HDD Recorder
Optus Fetch
Foxtel IQ3-5 or Now
Telstra TV
TV antenna prices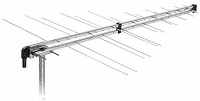 digital antennas from $50.
Typical antenna faults and fixes
A good antenna should provide all available channels in the area and never give pixelation. The antenna system usually consists of a fly lead from the TV to the wall, coaxial cables in the wall and roof, a splitter, a TV antenna amplifier and a power supply. In apartment buildings, it may also have distribution amplifiers and diplexers. TVs can also have problems with reception. One of the typical TV problems is a broken or loose antenna input, which we can fix.
Troubleshooting antenna problems
Start by checking fly leads from the TV to the wall and the power adapter for the antenna. The antenna may have a power adapter inside the house or on the roof. Here, our specialist will save you time. If replacing fly leads did not help, check the following fault descriptions. That will help the technician solve the problem over the phone and estimate the antenna's cost.
No signal
It can be any antenna system's component. If you last used the antenna a long time ago or recently switched from Foxtel, you may need to install a new antenna or connect an old one.
TV channels disappear at night
That can be poor antenna quality and interference from mobile networks. The timing of the issue is related to people coming home and starting to use mobile phones in your area. Mobile towers increase the power for better phone reception, interfering with TVs when the antenna is not very good. The problem can develop gradually or happen overnight. A quick fix may be possible, but antenna and amplifier upgrades may also be required.
TV channels drop out during bad weather
The antenna or external cables need to be replaced.
Antenna repairman makes free calls to Sydney Northern Beaches.
Antenna service Sydney-wide and other NSW locations can also be arranged. The technician, an electronics engineer with over 15 years of experience and fully insured, is usually available for an inspection and repairs within 24 hours.