Australian TV channels now offer live streaming of their free-to-air programs online without an antenna. In addition to replicating free-to-air TV, streaming provides services such as On-Demand programs, program guides, and more.
What is needed to watch TV online
TV channels require creating free accounts from a channel app or a computer. The exception is ABC News Live, which you can watch without registration or app on YouTube.

To watch TV online, you need a Smart TV, a computer, a mobile phone, a tablet, OR a streaming device such as Apple TV ($220), Chromecast ($59), Optus Fetch, Foxtel IQ, Amazon Fire TV Stick ($59) etc. Streaming devices require a screen with HDMI input, such as a computer monitor or a TV.

The minimum internet speed required for streaming TV is around 4 Mbs. Almost any internet connection delivers that speed. Faster is better as the internet speed defines maximum resolution and 'rewind' buffering speed. For 4K content, you will need at least 15 Mbs. WiFi is the usual way to connect; a wired internet connection can be better if available.
The simplest way to watch free-to-air online
The simplest way is via the Freeview guide by pressing the Green or Red button on the TV remote. It works only on Smart TV and while on a free-to-air channel. Depending on TV and WiFi speed, loading online content may take a few seconds.


Upon selecting a program on Freeview, you can watch it online if a corresponding channel app is installed. The other options in Freeview could be to watch a program from a TV antenna and set a timer to record on a USB drive. It may be necessary to reinstall apps if they are not functioning correctly.
Installing TV channel apps
You need five apps and accounts to watch all Australian free-to-air channels: ABC iView, SBS On Demand, 7plus, 9Now and 10 play. Smart TVs sold in Australia may have some apps and Freeview guide pre-installed, which can schedule programs and work as a hub for apps. With or without Freeview, you will need channel apps installed and logged in with your accounts. You can add channel apps to the TV home screen for easy access.
It is easier to create accounts with a good password on a computer. Connect the TV to the same WiFi as the computer. Now you can log in to a channel account and pair TV without typing complex passwords on the TV.
Start by installing the channel app on a smart TV or another streaming device. The app should give options to log in, create an account or the link for the computer or mobile phone.
You can find the app on your device's store if it is not pre-installed. Type something like 'channel seven'. The App Store is typically available from the Home, Apps, or Smart menu.
Installing channel apps on Android OS TV
App locations depend on the TV model and firmware version. In general, steps for TVs based on the Android system:
Press Home on the remote and find Play Store.
Find the channel app and install it.
Sign into your account on the app.
Add channel apps to the home screen for easy access.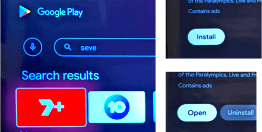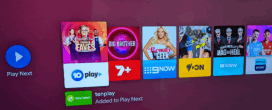 Troubleshooting TV
If your streaming video becomes intermittently blurry, it's likely due to slow or unstable WiFi. Try positioning your streaming device closer to the router. Moving the device to the other corner of the TV cabinet often helps.
If you are in Sydney and there is a problem installing TV channels, the picture breaks up, freezes, resolution or sound is not satisfactory, call Manly Electronics to fix the TV antenna and WiFi internet.
How to watch TV without a smart TV
To connect a streaming device to a non-Smart TV or monitor, check for compatible ports (HDMI, RCA, VGA, DVI, or Component). Use the converter if needed (e.g., HDMI to RCA).
To get sound from a monitor
Apple TV and Chromecast do not have separate sound output. From them, Digital surround sound comes via HDMI, usually through the TV or Surround audio amplifier. However, most computer monitors have a stereo analogue sound output for headphones or computer speakers.
View free-to-air TV on a computer
You can log in to a TV channel website and view free-to-air TV on the computer. To change channels, change websites. Keywords to find TV channels are - 'program name + Live TV', for example, 'ABC Live TV'. Finding what to watch on the computer is quicker than on a smart TV. You can connect a big-screen TV to the computer via HDMI cable or WiFi via a streaming app.
What is streaming
Continuous online video, in general, is called streaming or IPTV.
The arrangement of streamed TV programs in the app depends on the channel. There are dozens of streaming services in Australia and many more globally. Traditional free-to-air TV channels are only a fraction of the global IPTV content, although they have the best professionally made content. You can search for 'streaming aggregators' to find more. Netflix, Amazon Prime and Stan are popular streaming aggregator services.
About the author
Dimitri, the owner, is a specialist with a degree in electronic engineering. He has provided cost-effective repairs to residential and commercial clients in the Northern Beaches and beyond since the late 90s.
2018; updated 2023